Gutter Cleaning
&

New Gutter Installation | Houston
What We Offer
Gutter Cleaning

Minor Gutter Repair

Residential

and Commercial Gutter Cleaning Service

Service in and around the Houston Metro Area

100% satisfaction or your money back

Professional workers including debris haul-away
When should I clean my gutters?
While it depends on what kind of trees you have around your home, you should have your gutters cleaned once or twice a year, especially since a problem may be not be apparent. Wth Houston getting an average of 50" of rainfall yearly, your gutters play an important in the health of your home. On top of that it, you should have them checked and cleaned if you notice any of the following problems:
Water isn't draining from your downspouts

You can see leaves or other debris coming out of your gutters, or worse, have plants growing in your gutter

You can see your gutters begin to sag

Water comes of the edge of your gutters when it rains

Large icicles form in your gutters during winter
There are many contributing circumstances that can lead to problematic gutters, and Houston Gutter Cleaning Headquarters is here to take care of your problems, and you!
Why do I need to have my gutters cleaned?
When gutters fill up with leaves, sticks, nests or even toys, they can't do their main job. Gutters are meant to keep water away from running down the side of the house or sitting stagnant. Without proper waterflow in you gutters and downspouts, you risk many, potentially expensive) problems down the line, including:
Rotted soffits and facia

Rotted gutters

Insect infestation

Cracked or leaking foundation

Soil erosion

Damaged landscaping

And the added weight from the debris in your gutters can also cause your gutters to pull away from your home causing a number of other problems, such as mold and mildew.
What should you do with your dirty gutters?
When it comes to dealing with your dirty gutters, you have two main options.
1. Doing the work to clean your gutters can be dirty and potentially dangerous. You may even have to invest in additional equipment, adding to the cost of performing the work yourself.
2. Use the best professionals! Houston Gutter Cleaning Headquarters will take care of the work for you, clean up after the mess, and guaranty the work! Call or click today!
About Houston Gutter Cleaning Headquarters
We are a locally owned and operated professional service in the Houston Metro area.  We take pride in pleasing our customers and making everything right the first time. We know that the success to business is a happy customer, you. Stop by our About Us page for more info, and thank you for your interest and we can't wait to hear from you for your free quote!
What areas do you serve?
We provide gutter cleaning services to clients in Houston, Pearland, Pasadena, Missouri City, Sugar Land, Galveston, Bellaire, Clear Lake, Memorial City, Richmond, Katy, and surrounding areas of Harris County, Montgomery County, and Fort Bend County.
Gutter Guards
&

Gutter Covers | Houston
In addition to gutter cleaning, we also provide gutter guard and leaf guard installation.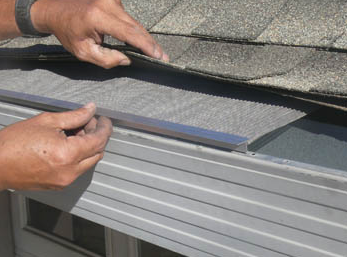 Installing leaf guards on your gutters means one more thing off your mind!
We know you like to take care of your home, but how often do you think about gutter maintenance? Sure, you notice when your gutters back up, slow down or even overflow, but did you know you can avoid all of that in the first place? Installing leaf guards on your gutter system is one of the easiest preventative measures you can take to make sure your gutters last longer, and it takes one more worry off your plate.
What do leaf guards do?
Leaf guards/gutter guards/gutter screens help keep debris out of your gutters while allowing water to flow through freely. 
How do gutter screens work?
The screen is fitted over the top of your existing gutters. The holes in the screens allow the water to flow into your gutters, and into your system as normal. However, items such as leaves and sticks cannot pass through, and either sit on top or fall/blow off of the gutters. Because these items cannot get into your gutter system, they cannot cause clogs or slowing of the water. Smaller debris may still enter through, but it is easily washed away the next time it rains.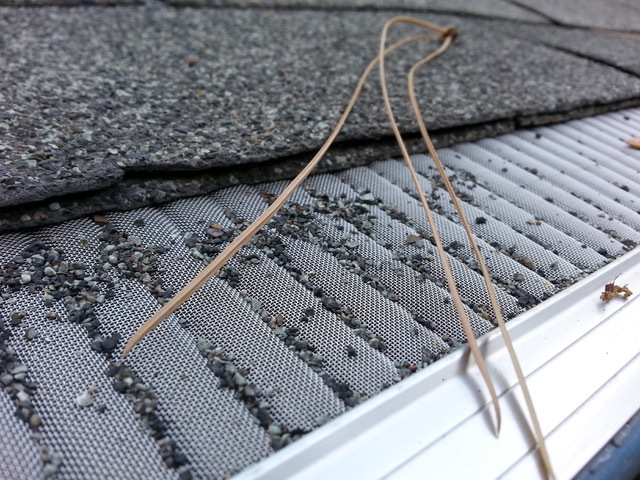 How are gutter guards installed?
Gutter guards come in a few sizes and styles, but all are similar in their installation. The guard sits on top of your existing gutters, but slightly under the edge of your shingles, without damaging them. This allows the water to flow straight from the roof onto the gutter guard. Because the guard sits directly on or slightly in your gutters, you do not see them from the ground. 
Before installation we'll make sure your gutters are cleaned thoroughly of any debris, and that no repairs are needed. However, most installations are a breeze!
Why do I need leaf guards?
The Houston area averages 50" of rain per year, and we have lots of trees. The combination of the two means that you're likely to have to clean your gutters out a few times a year. If you have a lot with lots of trees in close proximity to your home, you may even have to clean your gutters more than that. Even if you don't have trees on your property, leaves and needles are easily carried by the wind and may end up in your gutters anyway. Installing leaf guards will save you money in the long run by greatly reducing the need to clean your gutters and reducing the likelihood that your gutters will be damaged or damage your roof.
When your gutters back up, the water cannot flow properly and they become weighed down. The weight of wet leaves alone can cause your gutters to pull away from your roof, even causing damage to your roof. When your gutters back up and cannot carry the water away, the water spills over onto your foundation which can cause major water damage problems and flooding. All of this can be easily avoided by having gutter guards professionally installed. Leaf guards can also help prevent rodents and birds from getting into your gutter system and nesting or causing other issues.
Do gutter guards need maintenance?
The short answer is yes, no gutter system is foolproof. We recommend still inspecting your gutters twice a year to ensure that your guard system is still properly secure and that you don't have any gutter damage. While the wind will blow away most of the sticks and leaves that your gutter guard filters out, they may still need to be occasionally brushed off to ensure they remain effective. 
Do you offer different types of guards?
Yes, we offer several different types of gutter guards. Depending on the size of the gutters you have, the pitch of your roof, and the types of trees you have on your property, we may recommend different gutter guard systems to you. We do have two favorites however: black powdercoated and mesh. The black powdercoated are very durable, long lasting and easy to install, while the mesh screen keeps out smaller debris such as pine needles and roof grit. We're happy to discuss the different types of guards available and what best suits your needs.
How much do gutter guards cost?
The cost will depend on several factors, including the size of your home, the size of your gutters, and the type of guard you choose. Contact us for a free quote!
New Gutter Installation | Houston
New & Replacement Gutters | Houston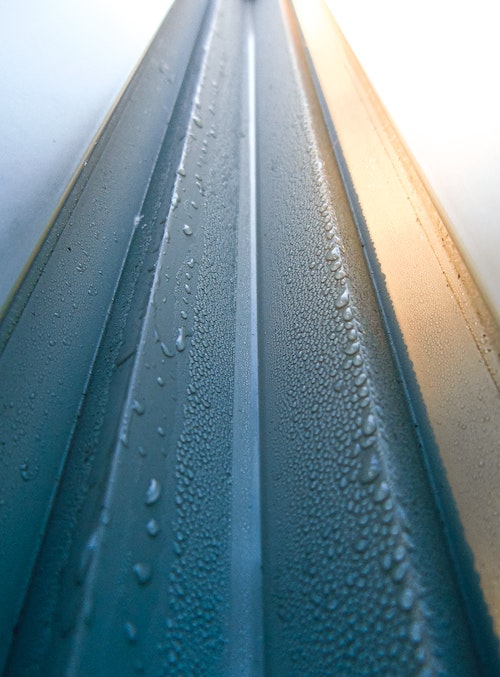 Is your home or building ready for a brand-new gutter system? If so, give Trushine a call today. 
Here at Trushine, we proudly offer new and replacement gutter installation services in greater Houston. Our gutters, downspouts, and system components are made from durable materials that are expertly installed and customized to meet the water control needs and style of your property. 
Why replace your gutters? 
Gutters are your first line of defense in preventing costly and potentially hazardous water damage to your home. If your gutters are dented, rusted, broken, or sagging, your home is at risk of basement flooding and water damage that can cost you thousands in repair costs. Mold growth resulting from basement moisture can even pose a health hazard for you and your family. If you've cleaned out your gutters recently but still notice water issues, it might be time to replace your gutters. Or, if your newly-built home does not yet have gutters installed, let Trushine help get you set up! 
Customized to fit your needs & style.
With Trushine as your partner, you can design the gutter system that is not only functional, but styled to match the look and feel of your home. Our gutter systems are made from strong, time-tested materials like aluminum and come in a variety of colors. Call today to schedule your free estimate and discuss your vision with us! 
Long-lasting function & support. 
As Houston's best gutter installation company, the team at Trushine knows gutter installation is only the beginning. In addition to offering new and replacement gutter installation, we help you maintain your gutters by offering gutter cleaning, gutter guard and gutter cover installation, and other gutter maintenance services to ensure your home is protected for years to come. We also boast the best value in the region for gutter installation, gutter guard, and gutter cleaning services. When you need help with your gutters, don't hesitate – give Trushine a call today.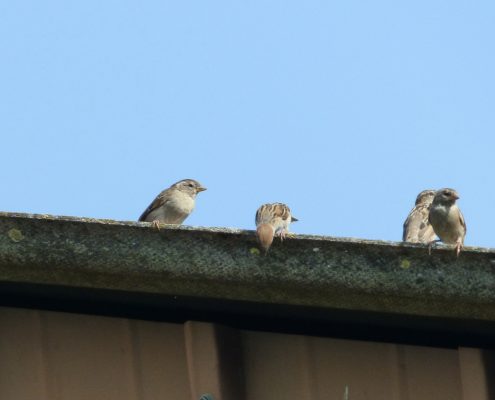 http://houstonguttercleaninghq.com/wp-content/uploads/2022/04/spring-gutter-cleaning-tips.jpg
1066
1920
gutter
http://houstonguttercleaninghq.com/wp-content/uploads/2018/06/Logo-2017-200-200.png
gutter
2022-04-06 06:04:58
2022-04-06 06:04:58
Spring Gutter Cleaning Tips: Why It's So Important and How to DIY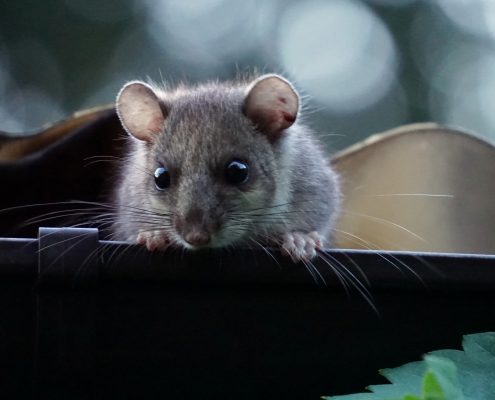 http://houstonguttercleaninghq.com/wp-content/uploads/2022/03/the-dangers-of-not-cleaning-your-gutters.jpg
1280
1920
gutter
http://houstonguttercleaninghq.com/wp-content/uploads/2018/06/Logo-2017-200-200.png
gutter
2022-03-02 05:06:20
2022-03-03 11:56:27
Don't Let This Happen to You: The Dangers of Not Cleaning Your Gutters